Andrea booked her session with me after seeing a friend's boudoir session.  When she originally booked her session she had a boyfriend and was thinking that she might do a session for him.   Things went south and they ended up breaking up.  She decided to keep her session and do it for herself.   I can't think of a better reason to do a boudoir session than for yourself!!   So many people book a session for someone else and then later realize that the session was more for them than anyone.   There's something so incredibly empowering about doing a session.
This gorgeous beauty was so nervous coming into her session.  Andrea is athletic and plays volleyball.   She's thin and fit.  So, at first it was interesting to me that she was so nervous.  But then I realized, she's not used to being so girly.  And she is definitely not used to seeing herself so sexy.
Andrea laughed during her session.  She smiled a lot.   Seriously though, this girls' smile is so contagious.    When editing her portraits, I would catch myself smiling when looking at her smiling face.   I seriously love that!
This is such an amazing time where women are starting to realize that we are beautiful as we are.  No two women are alike and that's what makes us all so beautiful.  And I'm so lucky that I get to show all these women how amazing they are just as is.   Thin bodies are just as beautiful as thick bodies.  Tall women are just as beautiful as short women.  Women with stretch marks and scars are beautiful too.   Are you starting to understand what I'm saying?   Yep, all women are beautiful.   You should book your own session and let me show you how perfect you are just as is!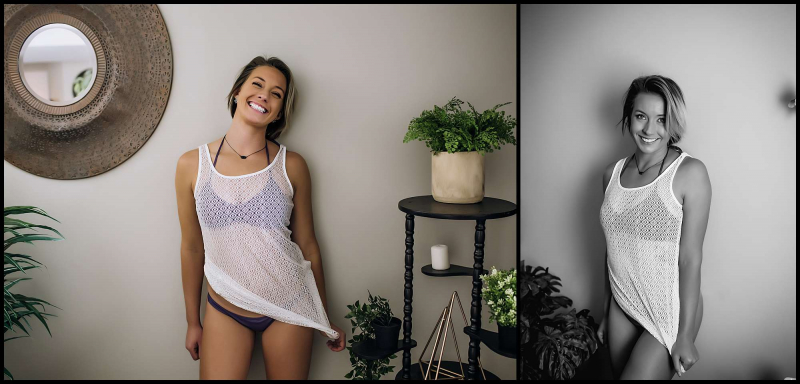 Have some questions about boudoir sessions?   Check out our Q&A Page.