Recently, I wrote a blog post about embracing yourself and learning to love your body. The post was about acceptance and realizing that we are all amazing just as we are. I highly recommend reading that post if you have time HERE. In this post you'll get to hear what these women think about embracing their bodies and learn a little more about this shoot.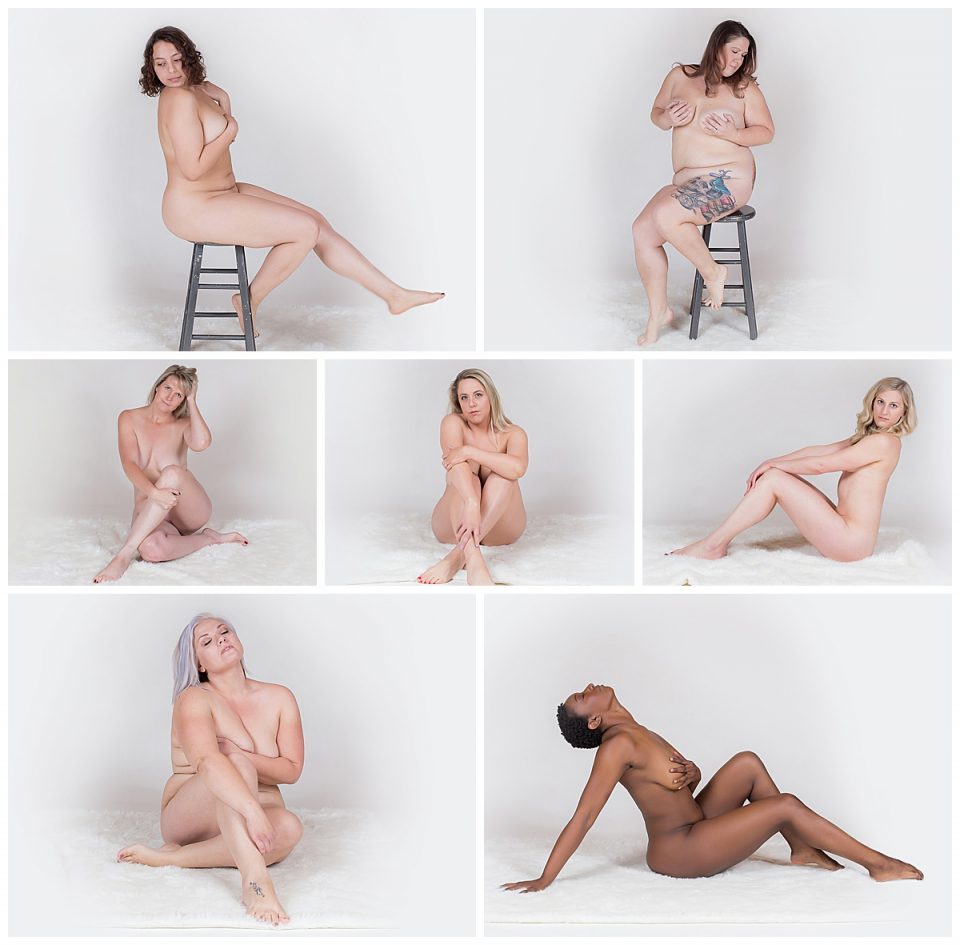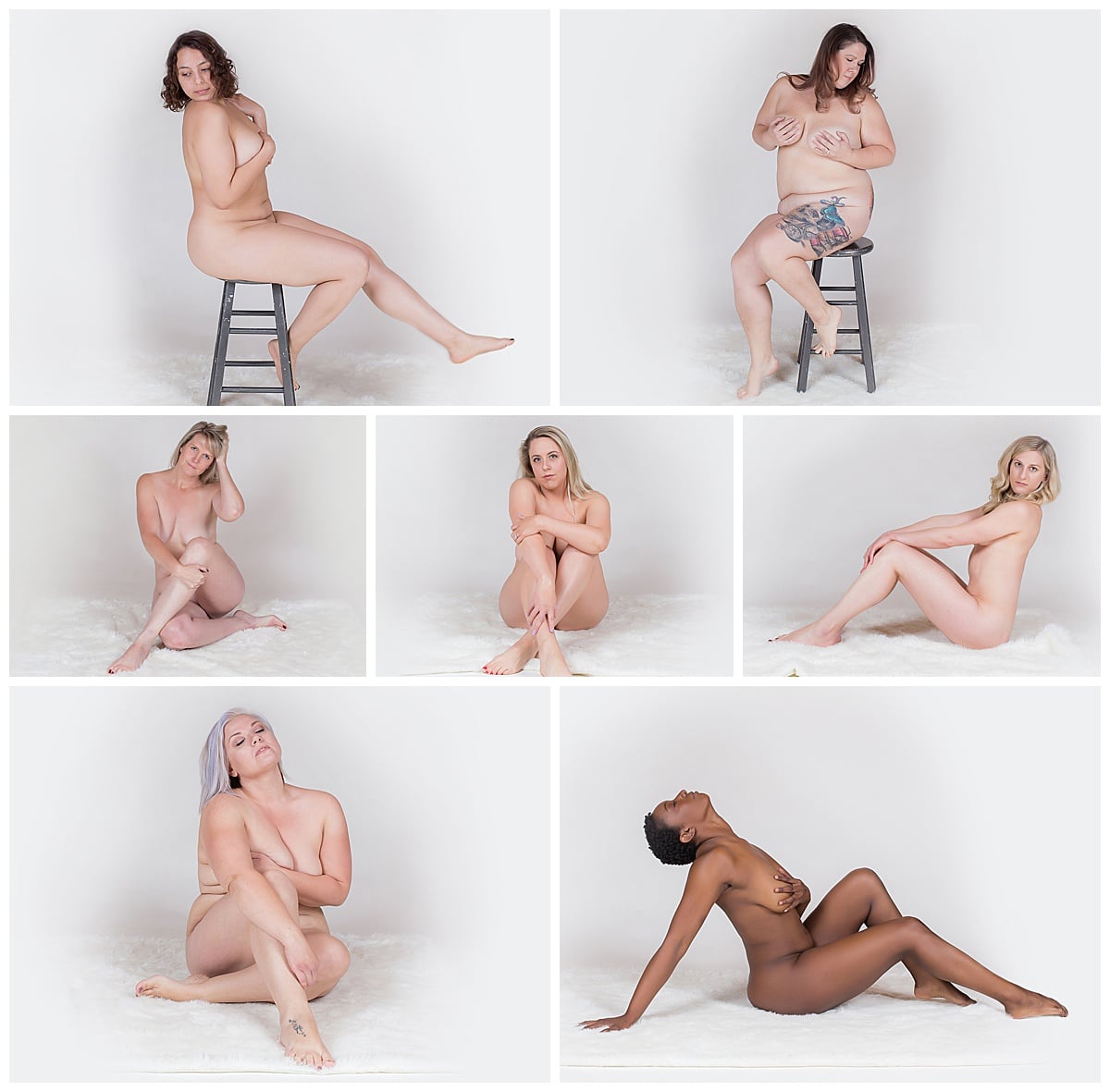 Right from the ladies themselves!
Miss H
"I need to stop apologizing for being myself. I think it takes a village to remind you to love yourself and remind you to be kind to yourself. Because, you are enough right now, in this moment exactly how you are. The experience shooting with these other women was so uplifting because we could literally lean on each other for that strength and reminder. This shoot had the same energy as meeting a new drunk best friend in the women's bathroom at a bar…. hahaha"
Miss J
"The most rewarding event in my life has been when I finally accepted my body for what it naturally is. I stopped looking at the faults and imperfections of my body, but, instead, focusing on the beautiful things my body can do. Working within the pole fitness community and instructing such diverse groups of women, everyone's bodies are beautifully different. The shapes and movements people can create with their own individual body is flawless and no one else can re-create it. Body positivity is celebrating your body and loving it for what it is. My main focus in life with loving my body more is to focus on being healthy and feeling better versus trying to look like a specific mold of the ideal body type."
Miss L
"Lately, I've had a hard time feeling good about myself. I've been trying to lose weight and failing miserably. I try to look at positives every day and know I need to do that in myself as well. I was one of the bigger girls in the shoot and no one batted an eye at my stretch marks, cellulite or extra cushion. Everyone was so positive. It was great to be around a group of such positive ladies. Everyone has their own battles they are fighting and things they don't like about themselves. But, rarely does anyone else see those. We are far more beautiful to other people than we are to ourselves. We all need to embrace yourself a little more."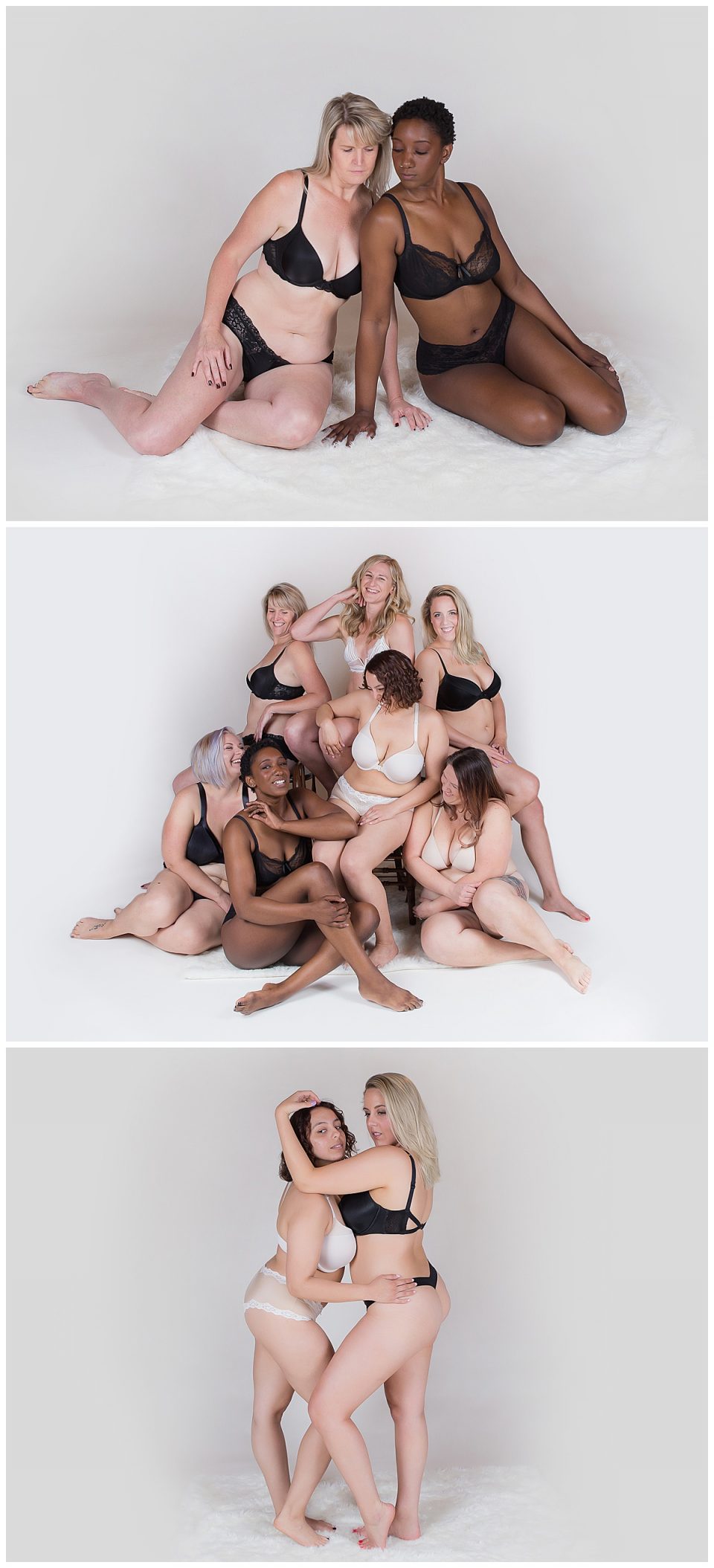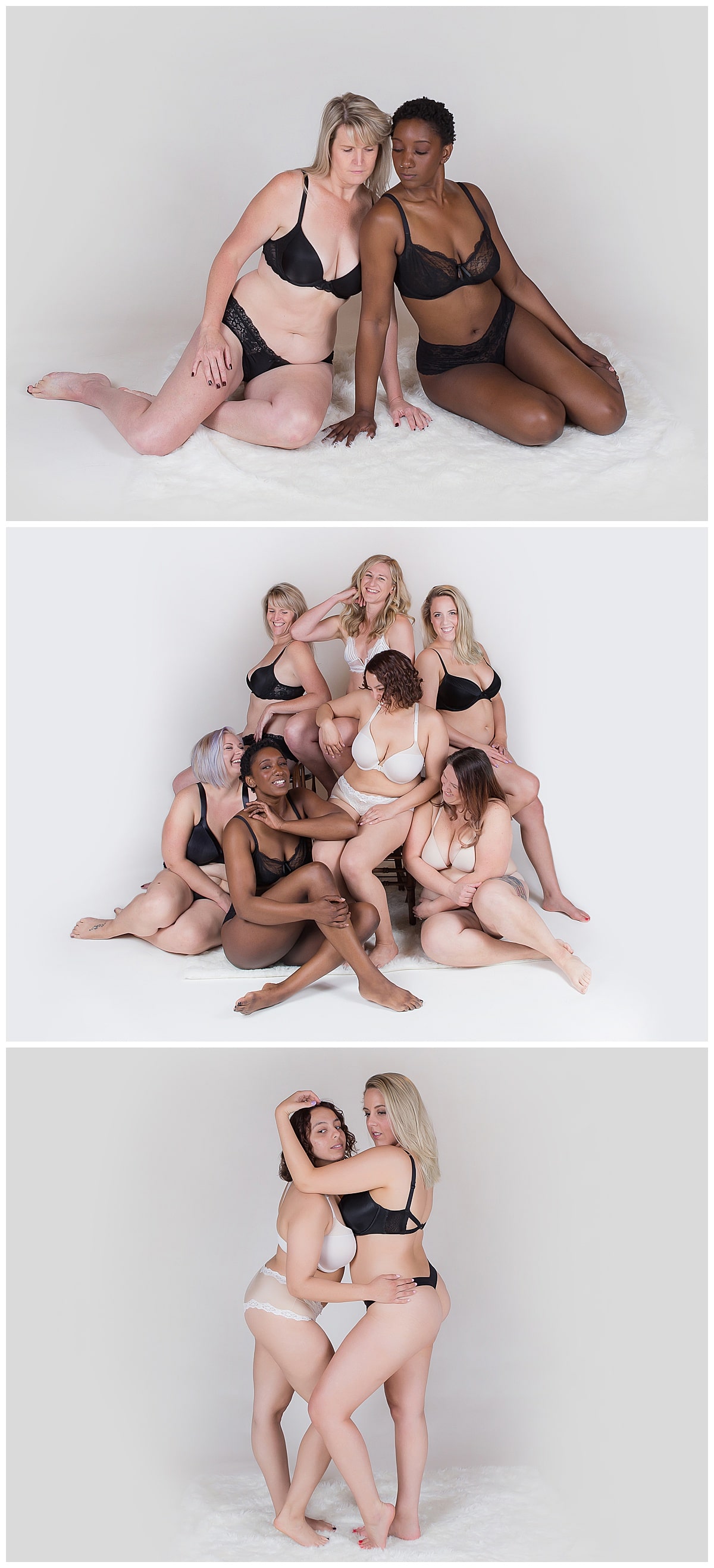 Miss N
"I've been overweight since I was a child. Growing up in an unstable environment, food was a comfort to me. I was bullied in elementary school and junior high. In high school I slimmed down, but was still bigger than the other girls. When I tried out for the cheerleading squad, I was told that they didn't have a uniform that would fit me. My 20s, alcohol and fast food were my life, and my weight skyrocketed. Getting married at 29, I was at my heaviest. I was mortified by my wedding pictures. In a span of 18 months, I gave birth to 2 children.

Complete awe was how I felt about my body with both pregnancies. This was when I decided it was time to celebrate my body and stop abusing it. I lost 65 lbs, which I've kept off for 3 years. But after all the years of abuse, plus 2 pregnancies, I was left with stretch marks, loose and saggy skin, cellulite, a kangaroo pouch, but most importantly, a new outlook and mindset. My husband told me that he loves my pouch because our babies were in there. My kids find comfort in squeezing my "squishy" arms when they snuggle with me. While I still have things that I would love to change, this is me! This is who they love. My body that has done some pretty amazing things.

I am more than my flaws. I am a smart, funny, sexy, fierce woman. Stripping down in front of the camera has been a liberating experience. Sharing my photos has been an eye opener. No one points out what they don't like about me, only that they think I look amazing and beautiful. We are all our own worst critics. We like to compare ourselves to other people, but the truth is, no one has had the same experiences that have shaped us into who we are both physically and mentally. And while you may wish you were like someone else, someone else is wishing the same thing about you. You need to learn to embrace yourself. And really, there's nothing sexier than a confident woman!
 
Going in to the group photo shoot I was admittedly nervous. I felt that the other women were younger, or in better shape, or both. But once my robe came off and my nerves began to subside, I felt liberated, not judged. Everyone was so nice and very supportive of each other. It was a group of women celebrating women. It was incredible, and comforting. And having done a shoot before with Sarah, I knew the pictures would turn out amazing. Sarah had a clear vision of what she wanted these pictures to be, and made it happen!"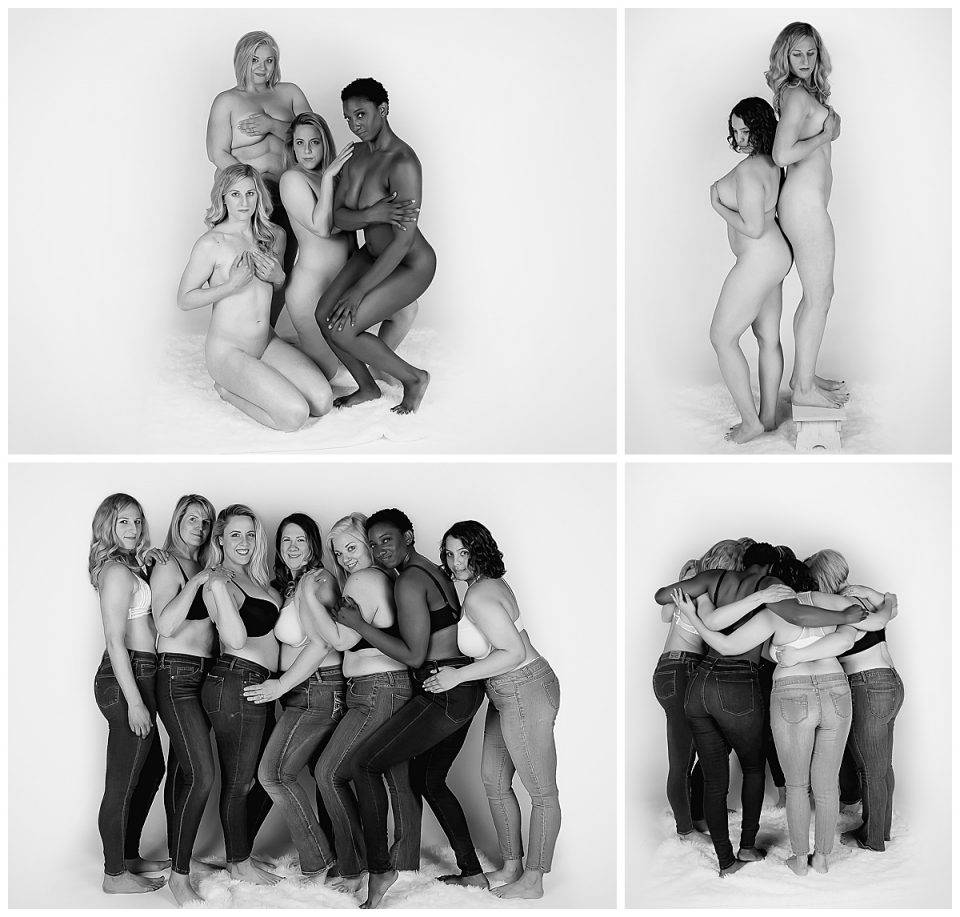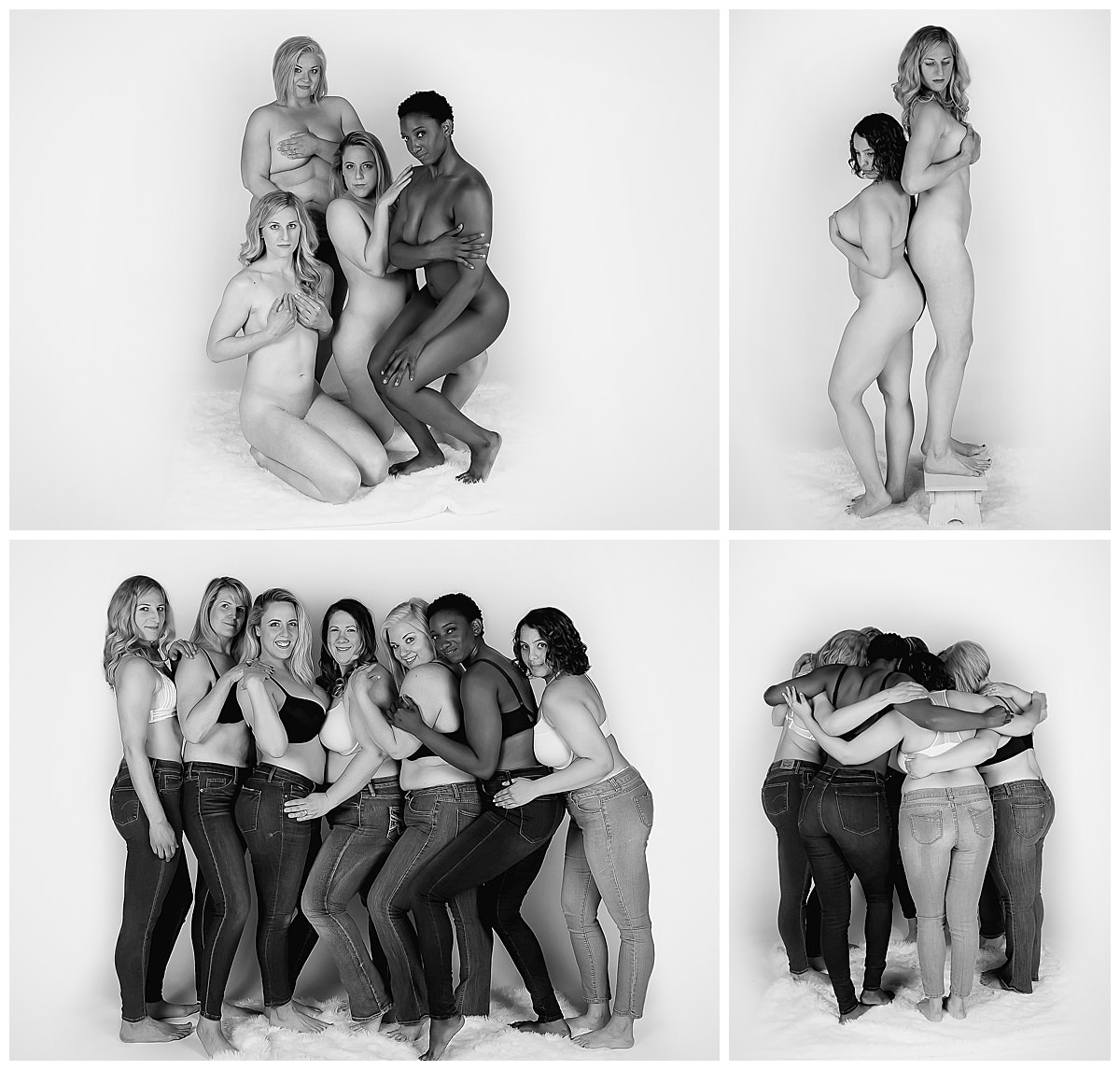 Miss T
"I think the more we see women, in ALL shapes and sizes, the more people will see that there's no one-size fits all. No one wakes up looking like a barbie or Kim Kardashian. Everyone has things they don't like or wish was different. But in the end, that's what makes us unique and beautiful in our own ways. Raw beauty is what I find to be the most beautiful."
Miss D
"All women are beautiful and yet we all have something about ourselves we don't like. We all need to remember every scar is a sign of strength and every pound, plus or minus, is part of our story. This shoot was so much fun and I am so honored to be part of this group because it shows how everyone one of us is different by age, by cup size, by skin tone, by weight and by height but yet we all are absolutely beautiful!"
Miss S
"I chose to participate in this photoshoot because as a curvy woman of color with many imperfections, I wanted to demonstrate the beauty in imperfections. I have struggled with weight loss/gain and participating in this shoot provided me with the confidence and empowerment that I want to inspire other women with. Spending time with these ladies in a vulnerable state and recognizing the beauty in all of our imperfections was such a joy. Beauty is uniqueness and this photoshoot made me feel like the fierce woman that me and the rest of the ladies are! Thank you Sarah for giving us this beautiful memory to always cherish! "
Embrace yourself!!! These women are clearly learning to do so! I am so honored that these lovely ladies volunteered to be part of my vision and shoot with me. Needless to say, I am also incredibly proud of these women for putting themselves in such a vulnerable position. I'm also thankful they have allowed me to use their images to help show other women how different we all are. Yet, we are all so amazingly beautiful!