Miss L rocked her boudoir session this past week. She works full time. Her work includes a few days of travel out of town every week. Since she's not home all the time her main priority is to focus on her family when she can. She has two little ones (4 and 5 years old). She has a devoted and supportive husband who helps her try to keep it together every minute of the day!
In her spare time she likes to start the day off by working out and ending it with doing something creative (scrapbooking, creating some elaborate room mom fail, etc!).
I like to ask all of my boudoir clients to tell me a little bit more about their session and how they felt about it.
Here's a little bit straight from Miss L:
" I did a session as a surprise for my husband's 40th birthday. I've worked my ass off after having two kids. I'm finally back to a point where I feel good and confident. The week before booking my session, I was reaching up to a cabinet and my husband commented, "Your ass looks amazing." I thought, "done! I'm booking it ASAP to relish that feeling!"
The night before my session, I barely slept. I was so focused on the session. My husband kept commenting that I was acting like I was somewhere else all night. The morning of, I was anxious, excited, elated the day was finally here. I was so jittery and terrified I could barely put make up on without knocking something over first! My nerves were absolutely shot by the time I pulled up to Sarah's house!
Oh my goodness! Sarah is a dream. From the little touches during the session: a bottle of water in the changing room, to her hopping up on the bed or chair and showing her sultry side. Sarah made me feel like I was hanging with an old college friend the whole time. The time flew by, and as soon as I got home, I texted her right away and said, "I literally had a great time!!"

I was so proud of myself after my session . I felt like I was walking on a cloud on my way home and when I walked in the door. Although I had to scrub every drop of make up off and hide all of my sexy garments before my husband is able to see the final product, my confidence level has sky rocketed, and I've felt sexier and happier with myself since doing it. It really has changed the way I look at myself, and how I view myself.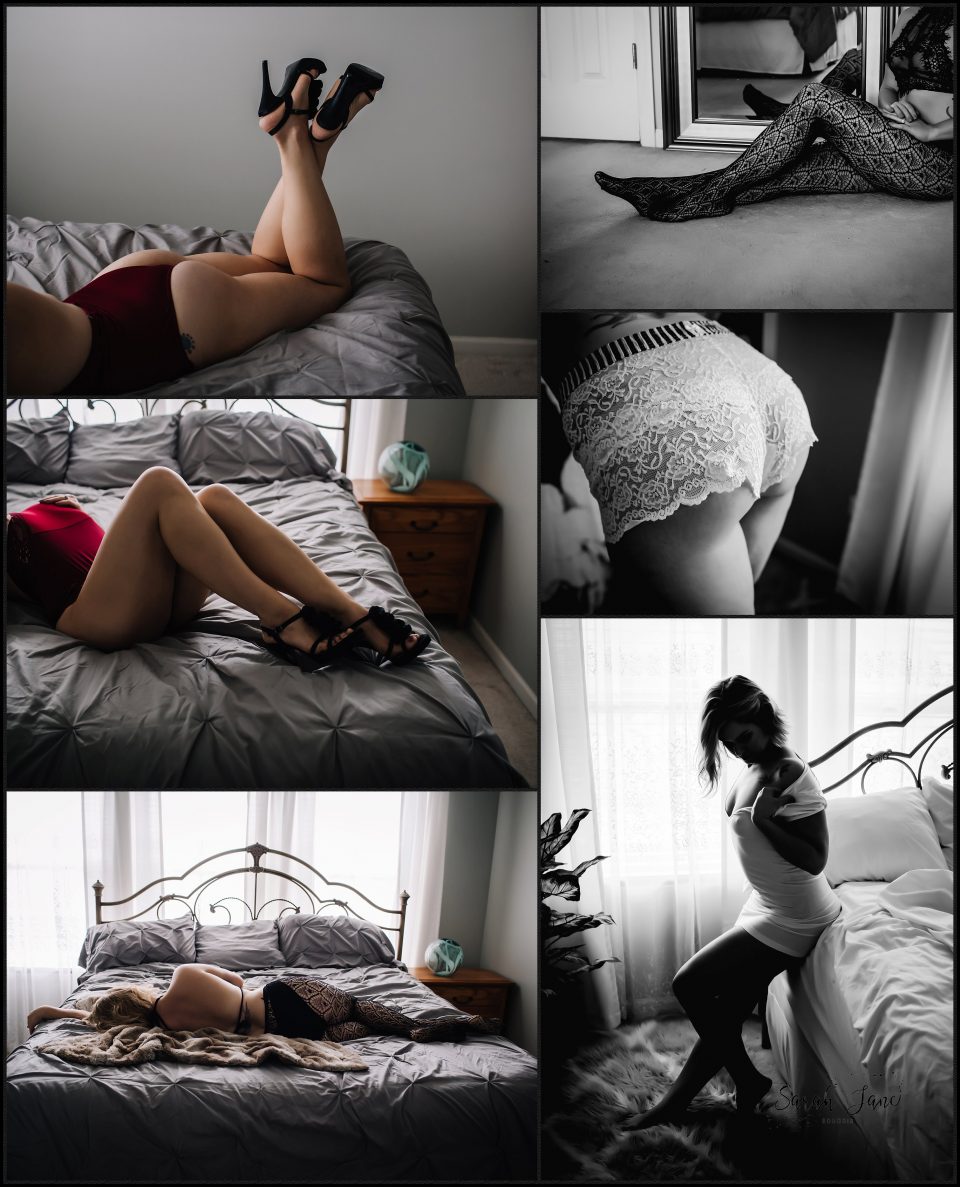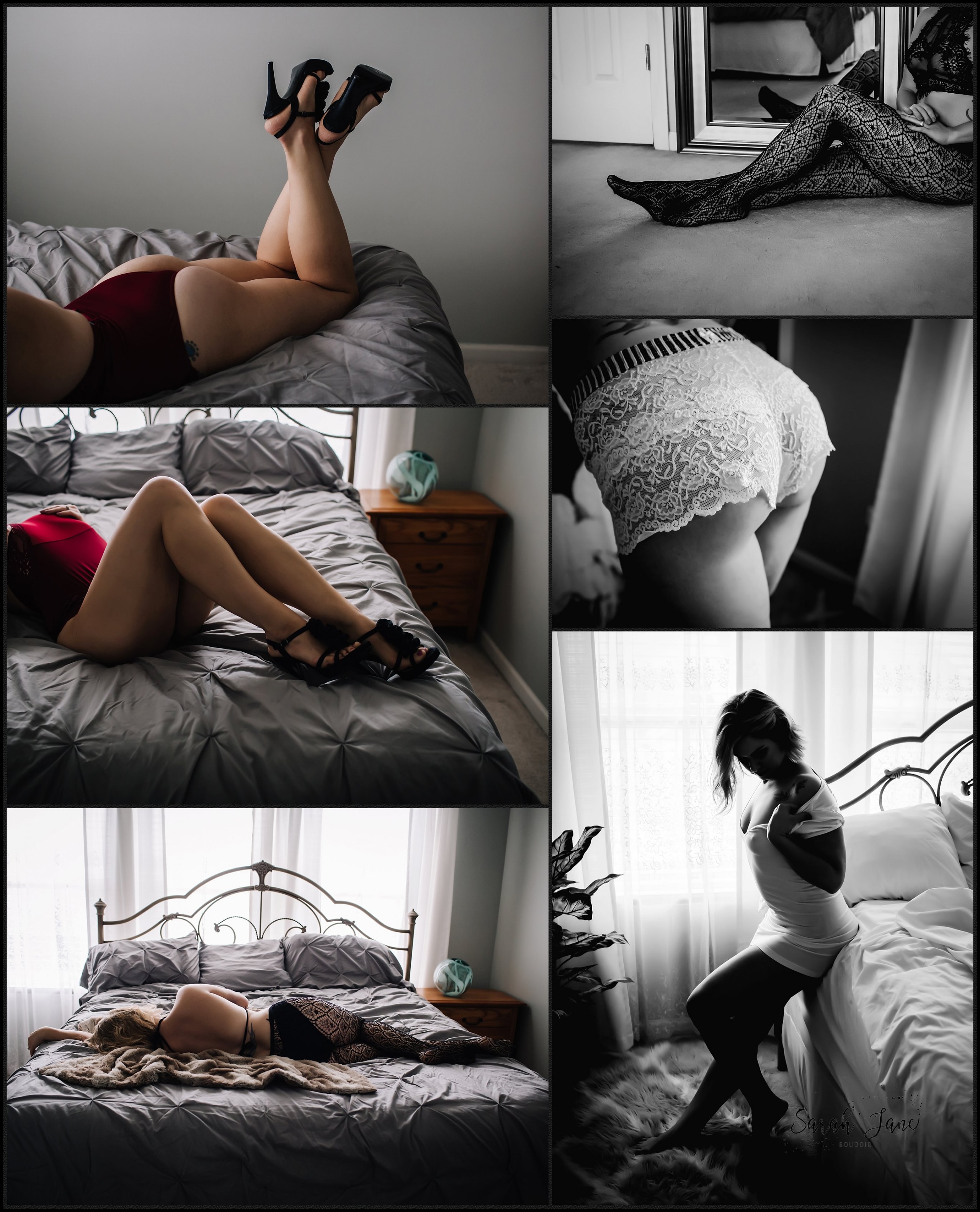 Book a Session! Do it for yourself!
If I could tell you anything it would be to Book the session!! Do it for yourself! I wanted to feel confident and beautiful and capture this time in my life. Of course years ago, I was younger and thinner (always thinking I could be better), and I thought maybe it was too late for me to do this. Maybe I should have done it when I was engaged; or right after the wedding… or…. or….

Maybe it's a sense of feeling "older and wiser" now, or maybe I feel like I should just BE better because I now have a little girl and don't want her to grow up with the stigmas of having to always want something different or "better". But something pushed me over the edge to pick up the phone and book the appointment. It was insane apprehension leading into it, but it was all such a thrill – the anticipation, the fear, the relief, the satisfaction, the confidence. It was for me- and it felt GOOD! I am proud of doing it. I'm losing my mind not splurging the juicy details to my husband yet. But you know what-I did it for me, and I splurged on the book to commemorate my confidence boost. Every woman deserves to feel that was about herself- every damn day. We deserve it, because we work hard. We have to celebrate the hard roads we've traveled, hard days, and our bodies are a reflection of the battles we've overcome. We're never perfect, and could always "be better"- but dammit, it's time to just enjoy the moment and appreciate what we got!
I can't tell you how happy I am that Miss L had an amazing experience. I have so much fun shooting boudoir and you know, she is right!!!! Often times it really does feel like old college friend hanging out during a session. I am so blessed to have this job and to show women how amazing they are.