My "Why" for Shooting Boudoir
Why Boudoir Photography?
Sometimes I find it hard to put into words why I shoot boudoir photography.  To me, it is so much more than photos.  It's about self-acceptance, body positivity and art.  It is about getting glammed up and laughing your butt off.  It's about the transformation that takes place between the time you walk in my studio and walk back out that door.  It is about feeling beautiful, and that is something I believe every person deserves.
I started shooting boudoir because I saw the beauty in everyone that came in the door.  I believed I could show any person what I see though my camera.  Women tell me they feel they can't look "that beautiful" because they feel too tall, weigh too much, or have too many stretch marks.  I loved showing them the photos from their shoot and showing that they CAN, in fact, feel beautiful.  Seeing their reactions to their pictures changed me.  From that moment on, I knew I had found my passion.
It was now my job to be a mirror to my clients.  Not the mirror that the world shows you that shames you, but the one who sees past all of the lumps, bruises, and imperfections.  The one that shows you your sparkle.


The Transformation
The transformation that took place in the studio is the best part of the whole experience for us.  When a woman arrives in my studio, most of the time she's nervous, sometimes even visible nervous.  Shaky hands and voices, sweaty hands and faces are things I see all the time.  Once they sit in the chair to get their hair and makeup done, the transformation begins.  The client slowly starts to shed those sighs and feelings of nervousness and anxiousness.
Then the shoot would start.  The first series is to get you all warmed up.  When I show the client the back of the camera after the first series, I usually hear "OH MY GOD, that's me?  NO WAY that's me!".  As we go into the next series and then the next, the laughter and smiles start to come out.  Then she starts to feel sexy.  The sexy eyes come out.  And you can tell that it's starting to click with them.
By the time we finish the session and go into the reveal, we're friends.  We've just shared an experience that they will always remember.  We've laughed and shared stories about our lives.
Once I show them their pictures on the screen, their jaws drop.  They see themselves like they never have before.  This is one of the amazing things about boudoir photography.  I get the chance to show them how I see them, how their partner sees them and be their mirror.  When they walk out that door, they are smiling so big and they can't wait to tell all their friends about what they just did.


A Little Piece of My Story
As a child of sexual abuse, I struggled to have love for my body.  I struggled to trust others.  Most importantly, for a good portion of my life I never felt like I was enough.
When I first started my photography career I photographed a little bit of everything.  Occasionally doing boudoir here and there.  What I found was that the more and more I did boudoir, the more it lit a fire in me.  Seeing my clients faces at their session was exciting.  After their session, I'd see them blossom and become more confident in themselves.
So, I started doing my own boudoir photos.   I started to think about the photos I was in, and how my daughter would look back and remember me if I wasn't around anymore.  Would I want her to remember me being ashamed of my body and hiding from the camera?  Nope.  Would I want her to not have any photos of me at all?  Absolutely not!  Maybe one day when she's older she'd even APPRECIATE the photos where I wore my emotional and physical scars proudly.
Sharing them with other women to say, look… I can do this too!  If I can do it, so can you. Eventually I learned that boudoir was my passion.   It's been such a joy seeing the changes in all of my wonderful clients over the years.  Most of all, however, it's helped heal me too!  I've learned to accept and even love my body.  I've connected with many women and this has taught me to trust a little more.  Mostly, after lots of therapy, connecting with women and time I've learned to KNOW that I AM enough.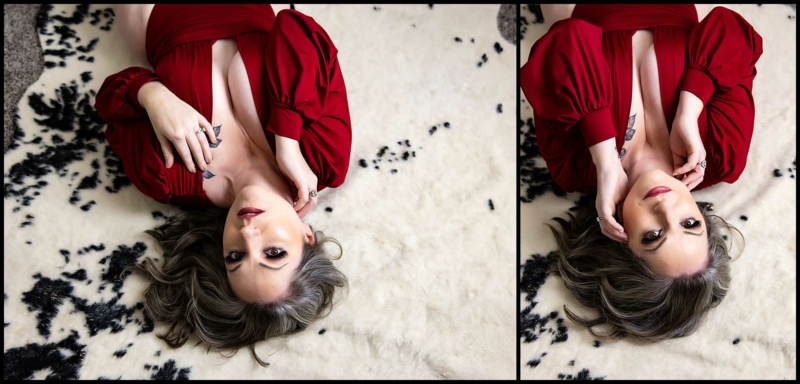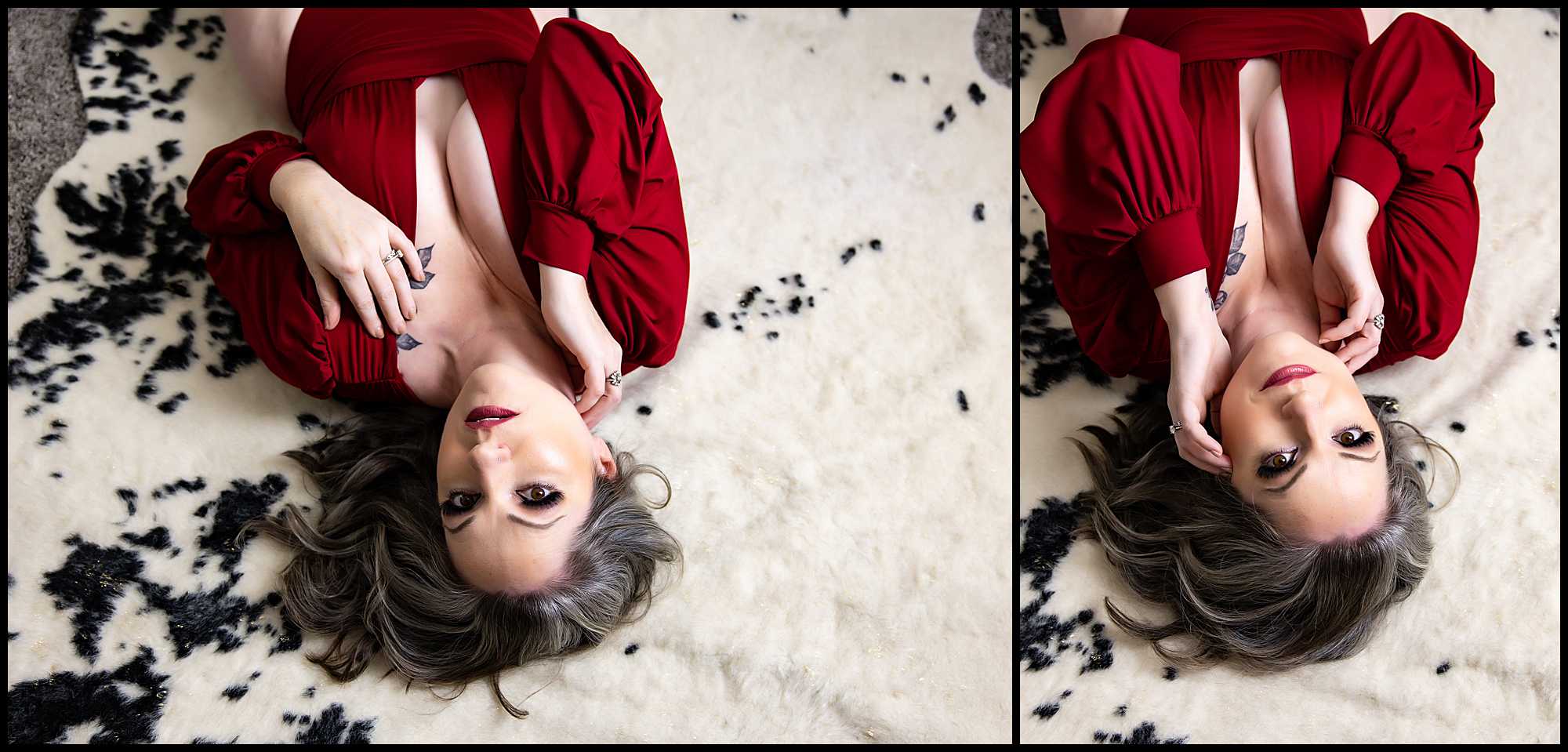 Yup that's me at my boudoir shoot!
For me, boudoir photography is a celebration of your body and who you truly are.  I take pride in being able to help show women how to celebrate their bodies, their battles and their victories they've been through.  Let me show you your sparkle.  Let me help remind you how to love and be proud yourself.
Interested in booking your boudoir experience with me?  Start your journey HERE.
Want to join my private ladies only VIP group?  Join the VIP HERE.